No 215 Jail, a coalition of social action groups, hosted a "BBQ Not Bars" community event to educate a North Philadelphia neighborhood about mass incarceration, on Saturday.
The event was held at the Eighth and Diamond Streets recreation center and included free food, face painting, mural drawing and a talent show for kids; and an education component for all — the group gave out literature on jails and mass incarceration and residents from the community spoke about personal experiences within the corrections system.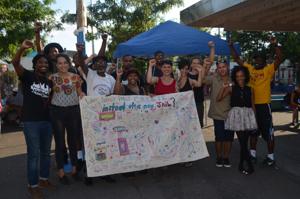 "We created this event to spread awareness about mass incarceration and the things needed to be done to stop it and what the community needs to do to help," said Daniel Corbitt, of Decarcerate, one of the member groups of the Coalition.
Corbitt explained the group recently worked to block a land acquisition bill, proposed by City Councilman Bobby Henon, that would have allowed the building of a new prison to replace the State Road House of Corrections.
By informing people, the barbecue aimed to keep the momentum going for such efforts.
"Councilman Henon said he was willing to work with us to set up a coalition to find alternatives to mass incarceration. [But] the bill could be re-proposed, so this event is also to get the community involved in blocking it," Corbitt said.
He and several other organizers added that alternatives to building a prison, would be to decrease the current population and decrease intake. That would, entail, they said, "lowering the cash bails, creating job readiness programs, ending racist police practices and overcharging in the district attorney's office."
The MC of the barbecue and a member of the Youth Arts Self (YAS) Empowerment Project, Romeeka Williams, agreed because she has had first hand experience with such issues.
"I was arrested at 17 and tried as an adult," she said. "It's ridiculous how they target young Black youth. [And] I was arrested a month ago and for my misdemeanor, they gave me a $50,000 bail. It's not even a felony [but] I sat in there for a month. [And] they wonder why jails are overcrowded."
On the mural that was drawn that afternoon, people answered the question, "What should Philly create instead of a jail?" The answers varied to "playgrounds, schools, jobs libraries, community resource center and clinics."
Wayne Jacobs, co-founder and Executive Director of the X-Offenders for Community Empowerment, said the community needed to be more supportive of returning citizens, to help end mass incarceration.
"We need to educate the community on how they can play an important role by supporting community based programs that will assist people with criminal backgrounds," he said. "The programs will create jobs and are an alternative to incarceration."